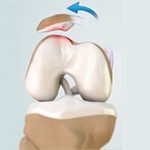 Mr van Bavel attended the recent ISAKOS conference. ( International Society of Arthroscopy, Knee surgery and Orthopaedic Sports Medicine).
There were many interesting presentations and workshops. Some of the included;
Patellofemoral instability.
There were many talks on different surgical options for management of patella instability. This include Medial Patellofemoral Ligament (MPFL) Reconstruction and Trochleoplasty. Mr van Bavel and knee believes the surgical treatment pf patella instability should be tailored to the specific anatomic abnormality causing the problem rather than just using a single operation to treat all patients.